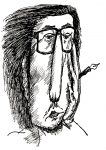 Tairan Li was born in China in 1992.
In 2015 he graduated from Shanghai Institute of Visual Arts with a Bachelor in Advertising Strategy and Design. His Graduation was focus on how to use motion graphics to raise children's interest in learning Chinese characters.
Since 2017 he studies at School of Art and Design Kassel with main focus on Animation. And trying to express his inner thoughts through experimental animation.